How old are the Hawaiian islands? When and how did Hawaii and Maui form?
QUESTIONS
How old is Hawaii?
How did the Hawaiian islands form?
How long ago did it happen?
ANSWERS
There are about 143 Hawaiian islands, in a chain (archipelago) 1500 miles long. They were all formed by volcanoes. A "hot spot" of lava has poured up out of the floor of the Pacific ocean off and on for millions of years, creating each island in turn, as the tectonic plate that forms that part of the floor of the ocean moves from east to west. The oldest islands are small because they are eroded, and are on the northwest end of the chain, which formed 65 million years ago. The youngest and largest island is the Big Island of Hawaii, on the east end of the chain, and it is still forming today (still enlarging as new lava pours into the ocean). The next island to form will be Loihi, southeast of the Big Island of Hawaii, still 3000 feet underwater, and estimated to grow to the surface in around 50,000 years. So the answer to how old is Hawaii, is that the age is different for each Hawaiian island.

How Old is Hawaii – ages of each island
Here are the approximate ages of the largest and youngest Hawaiian islands, all on the eastern end of the chain.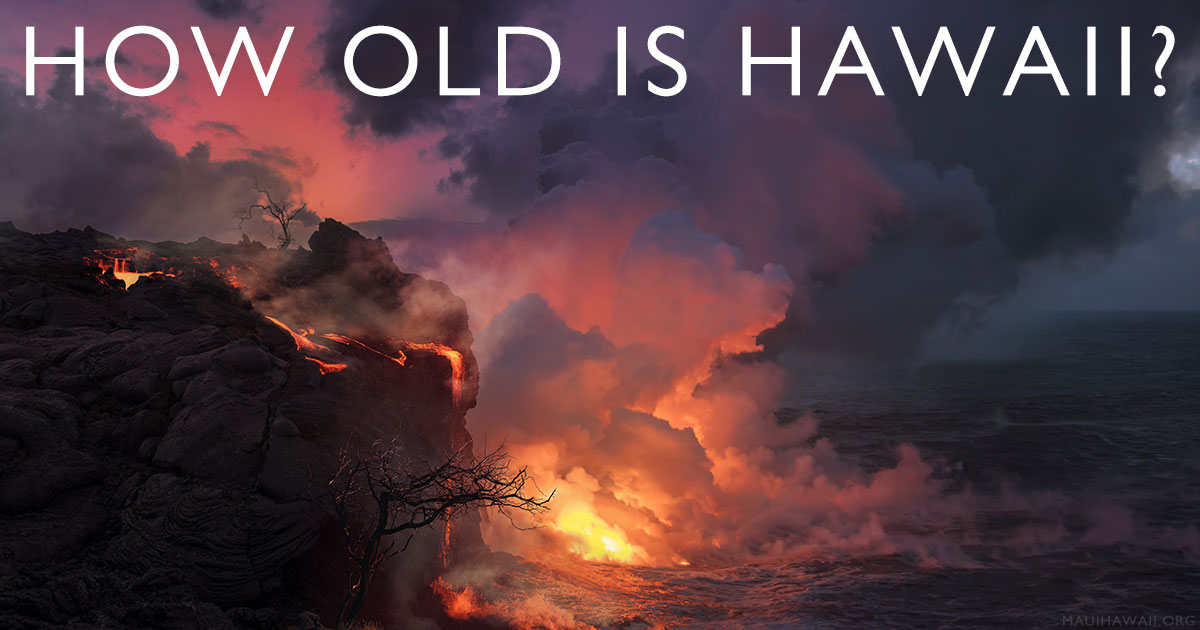 How old is Hawaii?
The Big Island of Hawaii is 300,000 years old (and still enlarging now)
Haleakala (the east half of Maui) is 750,000 years old (last erupted about 210 years ago)
The West half of Maui is 1,300,000 years old
Kahoolawe is 1,030,000 years old
Lanai is 1,300,000 years old
Molokai is 1,300,000 years old
Oahu is 3,000,000 years old
Kauai is 4,000,000 years old
The name of the state is the same as the name of the largest island, Hawaii. For that reason, the largest island is often called "The Big Island" to distinguish it from the name of the state. The island with the most population is Oahu, which is the third-largest island. Honolulu, Pearl Harbor, Waikiki, and Diamond Head, are on the island of Oahu. Maui is the second-largest island and has the second-largest population.
See video and photo below
More interesting Hawaii questions and answers are at Maui Q&A.

HOW OLD IS HAWAII?
THE WEST (LEFT) ISLANDS ARE 65 MILLION YEARS OLD AND THE EAST (RIGHT) ISLAND IS 300,000 YEARS OLD.

Thinking of planning a trip to Maui?
Maui Hotels and Maui Condos choices are here
Things to Do in Maui are at this link