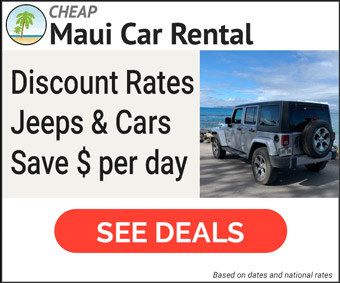 14 Top Tips To Get The Lowest Price
How Can I Get the Best Price on a Maui Car Rental?
This page is going to tell you exactly what to do, to get the best price on your Maui car rental. You will save money by following any or all of the 14 tips listed below. And though the shortage of rentals cars on Maui is pretty dire at the time of this posting (September 20th, 2021), there are still opportunities to get good prices if you look.
The price of a Maui car rental or any Hawaii car rental varies widely from one car rental company to another, from one month to another, and from one car size to another. No one Maui car rental company consistently gives you the best deals, but you can save a lot of money by following the tips on this page.
Just like hotels and airlines, car rental companies are constantly offering various discounts and changing their prices. That's why you need to do a little shopping to get the best deal. You do need a rental car for your entire time on Maui, because public transportation is minimal and there are many sights to see and things to do all over the island. So read the fourteen suggestions below, and start saving.
Learn more about Maui hotels, condos, restaurant, sights, activities

Maui Car Rental 14 ways to get a great price
1. Compare several companies
Go to the websites (or telephone) of each of the major car rental companies, tell them your travel dates and desired car size, and see who offers you the best price for your Maui car rental. The companies with the most choices and the most locations are Hertz, Avis, National, Budget, Alamo, Dollar, and Thrifty. You have to check several of them, because the company that gave your friend the best price last month may not be the company offering you the best price today.
2. Avoid additional charges after you return home
Use your mobile phone to take photos of your vehicle before you leave the rental lot noting any interior or exterior damage. If your contract asks you to fill the gas tank before you return to the rental lot, leave yourself time to do so. Also, don't drive on "off-limits" roads. Your rental contract should include a map of these areas.
3. Check Cheap Maui Car Rental
I have found the lowest prices on Maui car rentals is often through Cheap Maui Car Rental. So click on the link in this paragraph and fill in your pickup location at Maui's Kahului Airport OGG as the airport for your arrival (Maui's main airport in Kahului), fill in your dates, and see what prices they offer you.

4. Use AAA or AARP
Ask for discounts if you belong to AAA or AARP. They can provide you with discount code numbers good at the major auto rental companies. You can fill in those codes on their websites or you can call each of the car rental companies and ask for discounts based on your AAA or AARP membership.
5. Recheck, recheck, recheck
There is generally no penalty for canceling a rental car reservation, so reserve a Maui car rental at the best price you find on your first day of shopping on the web. Then go back to those websites again a couple of weeks later, a month later and again a month before your trip. If one of the car rental companies has cut their price, make a new reservation at the lower price and cancel your previous reservation. (It doesn't matter whether your new reservation is with the same or a different company than your original reservation.) This way, if prices drop you get the new low price, but if prices increase you just keep your previous reservation at the old low price. (Avoid reservations that lock you into a set price and prevent you from shopping for a better deal.)
6. Try Costco or Sam's
If you belong to Costco or Sam's Club, go to their website and click on Travel and then on Car Rental. Check the price from each of the car rental companies offered directly through Costco or Sam's.
7. Avoid spouse charges
If both you and your husband or wife are planning to drive the rental car, call the rental car company you are considering using and ask them whether there is an extra daily charge for your spouse to be authorized to drive. Often the amount of that charge is high enough to turn the best deal into the worst deal! If so, either change your reservation to a different company or ask how you can get that daily charge eliminated. Some Maui car rental companies (such as Cheap Maui Car Rental) don't typically charge for your spouse or partner with the same home address.
8. Avoid airport fees
Rent your car in town or in the resort area instead of at the airport, to avoid airport concession fee taxes. For example, on Maui, if you rent from any of the major companies at their Kaanapali-Kapalua location, or at their Kihei location, you won't have to pay the 11.11% added fee they all have to charge when you rent from their Kahului Airport location. Of course, you'll have to take a shuttle from the airport to your hotel, but if you pick up your rental car the next day you will often save enough on one day's less rental to cover the cost of the shuttle. Either return the car to the same place you rented it, or check that there is no drop charge if you are renting at the resort area and returning to the airport. To check the price for a rental car from Discount US Car Rental in Kaanapali-Kapalua, choose Maui Island Locations, and then Kaanapali area shuttle (or fill in JHM as the airport code); to check their price for a rental car in Kihei, fill in Kihei as the city name under Maui Island Locations on that website.
9. Check package deals
If you are using a travel agent to help plan your trip, ask about package plans that include a rental car and hotel or condo (or airfare) in one package price.
10. Check travel websites
Go to discount travel websites and see whether they can beat the best price you found in step #1. Use this link to easily search multiple discount travel websites at once (the airport code for Maui is OGG). Please be aware that you cannot just "cancel" reservations made through many third-party discount travel websites, such as Hotwire.com, as you have already given them your payment details. That's why we always recommend going through a trusted service such as www.CheapMauiCarRental.com as you can cancel and rebook at any time without a penalty (as noted in tip # 5. Recheck, recheck, recheck)
11. Don't pay for extra insurance
Don't buy unnecessary insurance. Call your home automobile insurance company to verify that they will cover your rental car. Check with your credit card company too, since many credit cards provide free collision coverage on car rentals. If your home insurance or credit card is covering you, then turn down the expensive added insurance offered by the car rental company when you pick up the car.
12. Don't pay extra for "pre-paid fuel"
With pre-paid fuel, they charge you for a whole tank of gas, even if you return the car with the tank half full. Instead, refill the tank just before you return the car, so you won't have to buy any gas from the Maui car rental company.
13. Always have an advance reservation
The very highest prices are usually paid by people who show up at the car rental counter with no reservation. You will save money by reserving your Maui rental car in advance.
14. Subscribe to the free Maui Newsletter for more tips
Our free monthly email newsletter includes money-saving tips for Maui activities, hotels, condos, and rental cars, as well as other Maui news and updates, including photos, reviews of restaurants hotels and condos, and more. Subscribe to my Maui Newsletter.
If you prefer not to rent a car while on Maui, see Maui Without a Rental Car for info on shuttles, buses, taxis, and van tours. But my advice is still to rent a car for your entire time on Maui.
If you want to rent a Jeep instead of a car, see Jeep Rental Maui.
If you haven't already reserved a place to stay on Maui, see the section of this website about Maui Hotels and Maui Condos.