Unusual Shops and Restaurants
[the_ad id="12262″]Paia is Maui's hippie and surfer town, with architecture from Maui's plantation era. Some say its residents are still living in the 70's, but visitors love its many interesting and unusual shops, galleries and restaurants.  You'll find Paia in the northeast corner of Maui's central valley, a few miles east of the airport in Kahului, just before the start of the road to Hana.  The center of Paia is the corner of Hana Highway (Route 36) and Baldwin Avenue.
The unique small stores in Paia have interesting names such as Nuage Bleu, Kindred Spirits, Aloha Boutique, By The Bay, Biasa Rose, Paia Trading Company, Paia Mercantile, Love the Beach, Mahina, Aloha in Hulaland, Lilikoi, Moonbow Cabana, Paia Style, and Hairbenders. Galleries include Maui Crafts Guild and Maui Hands.  The most famous restaurant in Paia is Charley's, but my favorite restaurant there is Cafe Des Amis. Other good choices are Flatbread, Paia Fish Market, and Cafe Mambo.
While you are visiting this part of the island, it's a convenient day to also see the windsurfers and big waves at Hookipa, and to spend some time in Maui's cowboy town of Makawao.  There are also several good beaches in and around Paia, including Baldwin Beach.
[the_ad id="12821″]
Click for more things to do on Maui.
Paia Photos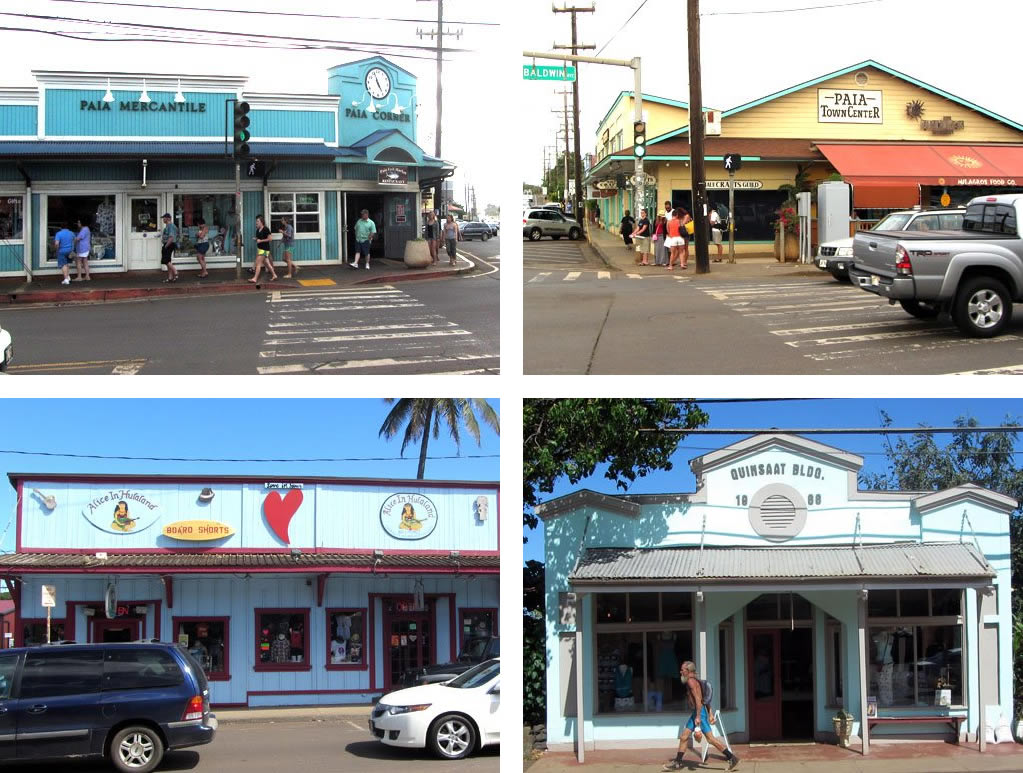 See the page of Things To Do In Maui for Haleakala, Lahaina, Lavender farm, aquarium, luaus, whale watching, snorkeling, tours, helicopters, horseback riding, dinner cruises, parasailing, fishing, biking, golf, beaches, kids and family fun, and more.