QUESTION
What is the meaning of the L on the hillside overlooking Lahaina?
ANSWER
The L on the hill above Lahaina stands for Lahainaluna High School. The L has been there since 1904. The high school is on the same hill, but not nearly as far up as the L.
Lahainaluna means "overlooking Lahaina." This 30-foot letter "L" at about the 2000-foot level on Mt. Ball, part of the West Maui Mountains, is created and maintained by the students of Lahainaluna High School by clearing the plants and weeds (and putting in lime to prevent re-growth) on that section of the hillside. The hike to the L is very difficult, and the trail is now closed to the public.
Lahainaluna High School is the oldest high school west of the Rocky Mountains, founded in 1831. Their sports teams are called the Lunas. On the L are the year and stripes for the number of athletic championships won that year.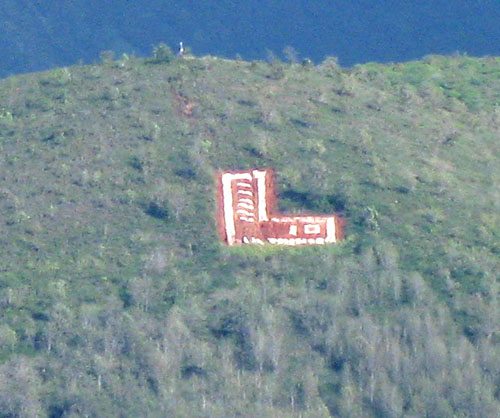 Thinking of planning a trip to Maui?
Maui Hawaii sections of this website are explained here
Maui Hotels and Maui Condos choices are here
Maui Car Rentals discount tips on this page
Things to Do in Maui are at this link