Vietnamese Cuisine Kihei
***Unfortunately, Vietnamese Cuisine in Kihei has been permanently closed.***
Vietnamese Cuisine Restaurant in Kihei, Maui
Vietnamese Cuisine is an inexpensive restaurant with excellent Vietnamese food, at the Azeka I (makai) shopping center in Kihei.
1280 South Kihei Road
Kihei, HI 96753
808-875-2088
About Vietnamese Cuisine
There are about 80 items on the long menu, including appetizers, noodle plates, pho, soups, steaks, vermicelli noodle dishes, rice plates, fried rice, Vietnamese burritos, clay pots, wok dishes, and stir-fries. Maui News readers voted this the best Vietnamese restaurant on Maui in 2011. Vietnamese Cuisine is in a more convenient location for tourists than the other well-known Vietnamese restaurant on Maui, A Saigon Cafe in Wailuku.
Even if you are not an adventurous eater, you'll find plenty of delicious lunch and dinner choices here at Vietnamese Cuisine in Kihei.
See below for the menu list and food photos.
For many more restaurants in all price ranges on this side of Maui, click on South Maui Kihei Wailea Restaurants.

Vietnamese Cuisine menu (subject to change) $ Inexpensive
Noodle plates
Egg noodles or rice noodles
with seafood, beef, or chicken
Pho
Chicken or steak
Chicken broth soups
Egg noodle, Won Ton, or Rice noodle
Vietnamese soups
Hot and sour
Chicken vegetable
New York steak
Vermicelli noodles
Sauteed lemongrass chicken or beef
BBQ chicken
Fried spring rolls & grilled beef
Shredded pork
Grilled pork
Shrimp pops
Rice plates
Curried chicken
Beef with lemongrass
Shredded pork
Porkchop
Cube beef
Crispy chicken
Crispy sauteed shrimp
Chicken with ginger
Crispy chicken
Crispy duck
Beef garlic and eggs
Fried rice
Beef
Chicken
Shrimp
Pineapple
Vietnamese burritos
Grilled beef sirloin rolls
Boneless chicken breast
Shrimp pops
Grilled pork
Lemongrass beef
Fried spring rolls
Clay pots
Rice
Catfish
Mahi-mahi
Shrimp
Pork
Lemongrass curry
Chicken or beef
Shrimp or Mahi
Vegetarian
Summer rolls
Spring rolls
Green papaya
Tofu cabbage salad
Green salad
Steam vegetables
Hot sour soup
Stuffed tofu
Tofu burritos
Stir fry
Vegetables, bean, curry, tofu, or noodles

Vietnamese Cuisine Photos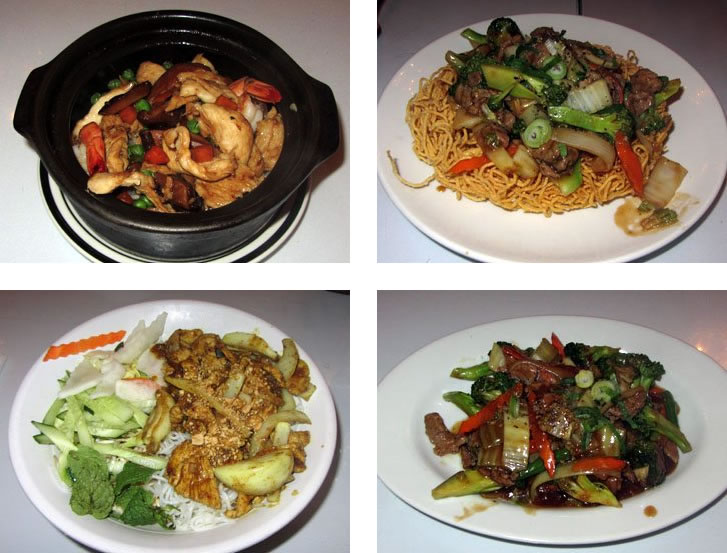 Where To Dine On Maui
Maui Restaurants for Fine Dining (Expensive) click here
Maui Restaurants Mid-Price (Moderate) click here
Maui Restaurants Inexpensive click here