Maui Fresh Streatery Food Truck
Rotating Food Truck Menu at Maui Fresh Streatery
Maui Fresh Streatery is a food truck that parks in various locations, usually in Wailuku or Kahului. For this week's locations, see their Facebook page. Phone 808-344-7929.
Instead of having one unchanging short menu like most food trucks, Maui Fresh Streatery has an ever-changing menu. They have food from multiple different countries, with the nationality of the food changing every one to two weeks. For example, one week they will have several Italian dishes to choose from, then the next week they may have Japanese foods, then another week Hawaiian, Indian, Korean, French, or some other country's specialties. There's no other food truck where you will find cioppino one week, salmon skin with tofu the next week, Nicoise salad the next, Indian spiced ahi the following week, and chicken katsu curry the week after that. See the link to their Facebook page in the paragraph above, to find out what their menu is this week.
How Is Maui Frest Streatery?
Below I have listed the Italian food that Maui Fresh Streatery was serving on one of my recent visits, plus some of the other foods they have had in other months. But their menu regularly changes so completely, that there is no way that I, or any other web page, can list all the possibilities that you may find here. I can only say that everything I have had here has been delicious. And I must not be the only one who feels this way, because both the Maui News and Maui No Ka Oi Magazine have called this Maui's best food truck. Guy Fieri even raved about Maui Fresh Streatery when he featured it in a 2017 episode of his TV show "Diners Dives and Drive-Ins."
This food truck is only open for lunch. There are no tables and chairs, so many people carry out the food to their home or office, or just eat standing around by the food truck.
The owner of Maui Fresh Streatery is chef Kyle Kawakami. He was born and raised on Maui, but he has studied a wide variety of cuisines from around the world. He is very friendly and loves to chat with his customers here at his food truck.
See below for the menu list and photos.
For reviews, menus, photos of other great food trucks see Maui Food Trucks.

Maui Fresh Streatery Food Truck Italian Week Menu (subject to change)
Panzanella with Shrimp
Caprese Panini
Chicken Marsala
Italian Stallion Fries
Eggplant Parmesan
Indian Spiced Ahi
Pork Salad
Calamari
Cioppino
Shrimp Louie
Nicoise Salad

Maui Fresh Streatery Food Truck photos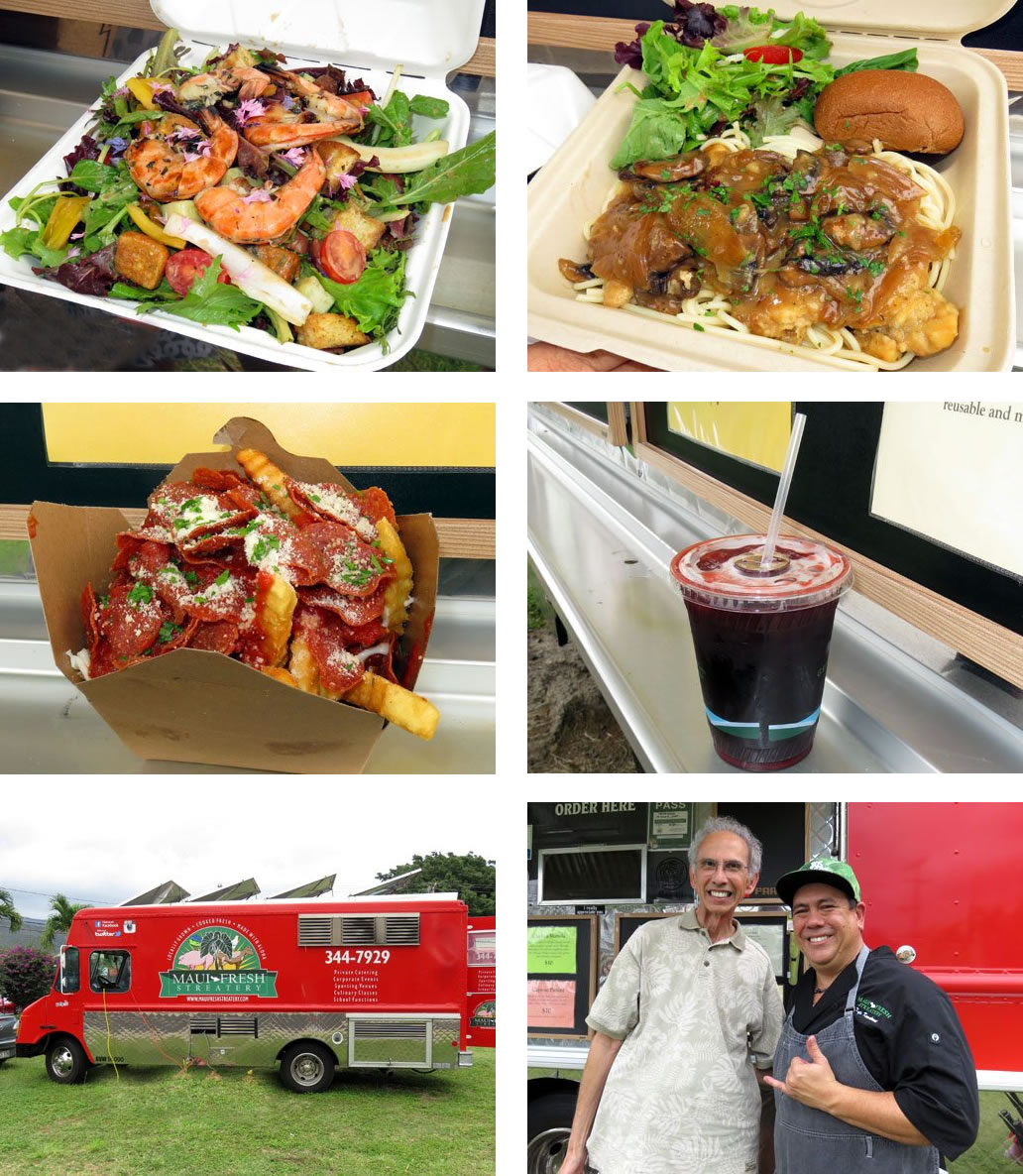 Maui Fresh Streatery Video

Where To Dine On Maui
Maui Restaurants for Fine Dining (Expensive) click here
Maui Restaurants Mid-Price (Moderate) click here
Maui Restaurants Inexpensive click here