Kingwell Island Art
Jim Kingwell and His Gallery of Maui Island Art
Jim Kingwell is a Maui artist who captures the feelings of Lahaina in his paintings. You can meet him and enjoy his work in his gallery just a few steps back from Front Street, across the street from Kimo's restaurant.
834 Front Street
Lahaina, HI 96761
808-667-6782
About Kingwell Island Art
Kingwell has been painting in oil and watercolor for over 30 years, throughout the United States and sometimes in Europe and South America. He calls his style "Romantic Realism" and his gallery includes a wide variety of his paintings, especially paintings of Maui. My favorites are his many views of Lahaina.
Kingwell offers something I have not found at any other Maui art gallery: he will paint YOU into a painting. If you buy one of his paintings or prints, you can pay an additional $100 to have Jim Kingwell paint you, or you and your spouse or friend, into the painting. My wife and I did this and you can see the result in the third picture below, showing us standing on the walkway entrance to Hula Grill restaurant in Kaanapali.

Kingwell Island Art Photos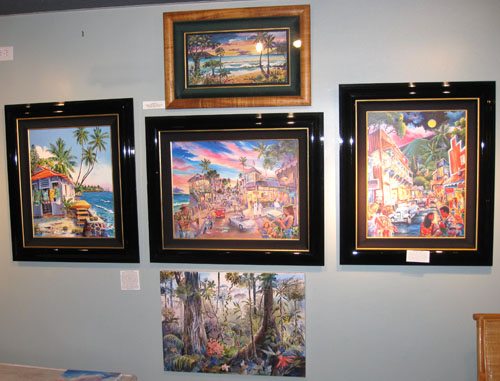 See the Maui Shopping page for more links and info about more places to shop on Maui. See the page of Things To Do In Maui for luaus, whale watching, snorkeling, tours, helicopters, horseback riding, ATV, dinner cruises, parasailing, fishing, zipline, biking, golf, hiking, sightseeing, aquarium, the road to Hana, volcano, Lahaina, lavender farm, beaches, kids and family fun, and more.