Maui Restaurant Menus from Jon's Maui Info
Below is the Gazebo Maui menu. Menu items and prices frequently change, so this may not be completely accurate on the date you go to the restaurant. But it will still give you some idea of the kinds of food they serve and the range of prices they charge. For more info about Gazebo, including review, location, and food photos, click on Gazebo Maui restaurant.
The Gazebo Maui menu below has three pages. The first page is breakfast items, the second page is lunch, and the third is the kid's menu. But don't let the separate pages of the Gazebo Maui menu fool you: all the items on all the pages are available the whole time that the restaurant is open. The Gazebo Maui menu is the same from 7 AM to 2 PM every day. The restaurant is not open for dinner, but you can get breakfast or lunch any time they are open. They have this menu posted just to the left of the restaurant entrance, so while you are waiting in line to get in, you can study the latest version of the menu (if you are not too busy enjoying the beautiful ocean view). The below menu is from 2019 but it seldom changes, so you are likely to find the same items whenever you go.
Our Favorite Dishes
My favorite thing on this menu is the omelet, which I usually order with spinach and mushrooms. My wife's favorite menu item here is the French toast. One of the most popular foods on the menu is the huge serving of fried rice.
For other Maui restaurants, click on Maui Restaurants.
Want to know more about Maui? Click for more about a perfect Maui vacation.
Want to keep up with what's happening on Maui? Click for our free monthly Maui newsletter.
Gazebo Maui Menu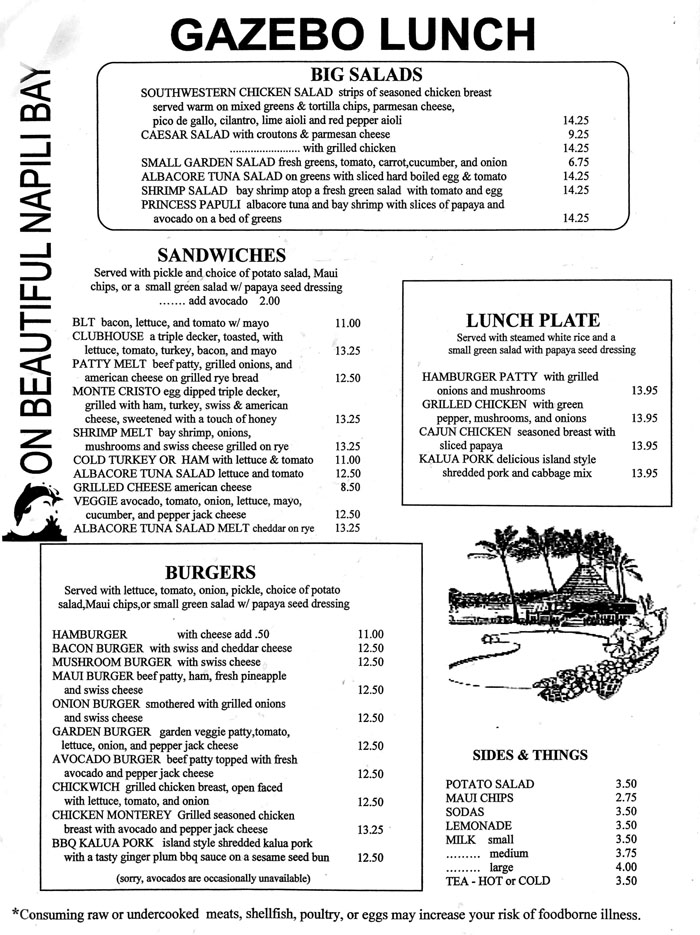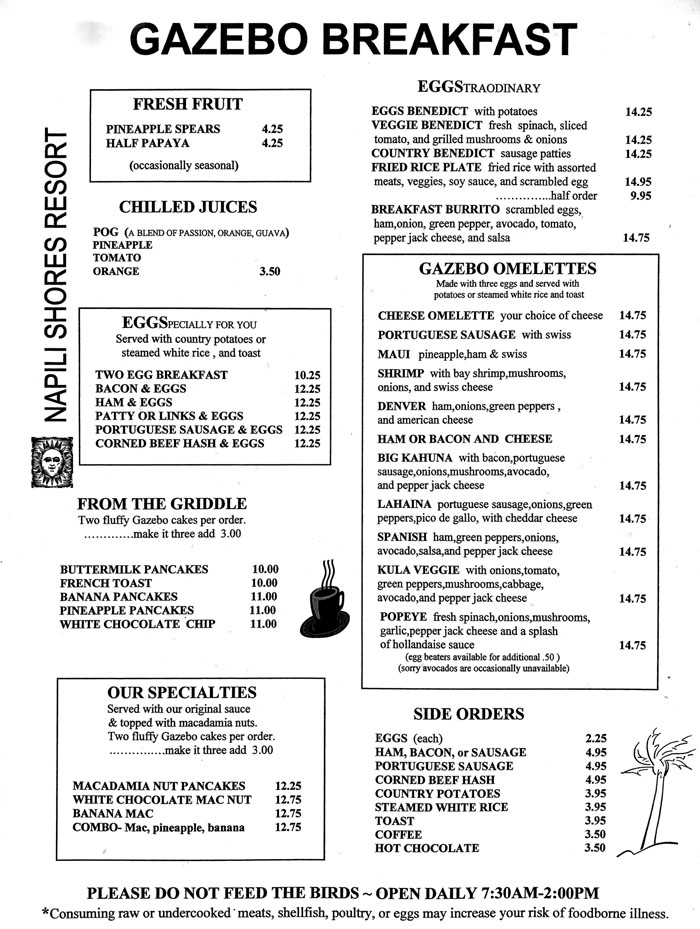 Do the menus above make you want to plan a trip to Maui?
Maui Hawaii sections of this website are explained here
Maui Hotels and Maui Condos choices are here
Maui Car Rentals discount tips on this page
Things to Do in Maui are at this link.